News
Find out the latest news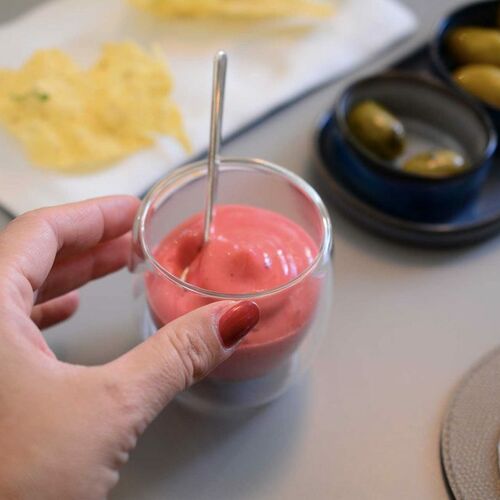 "A chest of authentic cooking art in the heart of Garda Trentino"
"Some memories are enough to perfume a soul forever".
Peter Brunel chooses a D'Annunzio's quote to accompany the visitor – or essayer – to his marvellous corner of beauty… of gusto. Much more than a restaurant, much more than a tasty dish. An experience at Peter Brunel – Ristorante Gourmet is a pleasant sensation that will keep in your mind for a long time. The Michelin-starred chef Peter Brunel decided to come back to his homeland Trentino after a long period spent in the Italian and French kitchens. Thanks to his working experience in Florence, where he worked as executive chef in Lungarno Collection's restaurant Borgo San Jacopo of the Ferragamo family, in his dishes you will taste his strong past experiences. We tried this tasteful experience for you, in the new Peter Brunel's gourmet restaurant recently opened in Arco, at Linfano, close to Lake Garda.
The design is clear: clean and essential lines, a sort of living room more than a restaurant, with an amazing show kitchen. Here, the genial poet D'Annunzio seems to relive in harmony with the design and chef Brunel's cuisine. You can catch it from the style, similar to Vittoriale's, and from those sentences that want to stimulate the sin of gluttony. "Dare the undareable" is written in the menu, but you cannot refuse an invitation at Peter Brunel's.
Our experience began with an appetizer in the beautiful lounge: a glass of Trentodoc and something to eat. The atmosphere was so agreeable. Then we sat at our table. From the mise en place to the clean and functional design (the tables are wonderful), to the show kitchen that looks like a painting.
Here everything is pleasure, as D'Annunzio might say.
The menu is an extension of Peter Brunel's life – his journeys, his experiences.
Lik that in Florence, that relives in a "pappa al pomodoro", a typical Tuscan poor recipe. Gusto, texture and even a golden leaf on it.
Anyway, I chose the tasting menu that brings out the excellences of Garda Trentino: vegetables and the extravirgin olive oil of Garda Trentino.
The main character of this menu is "Potato spaghetti with pesto sauce", a curious but perfect "manipulation" of the potato that transforms the spaghetti but keeps the same texture, the crunchiness of the potato but the consistency of the traditional past. A great combination.
Then, from the tasting menu of my tablemate, a purely poetic dish: a touch of Lofoten, that was marinated anchovies, seawater, Piquillo ball pepper, oyster leaves and breadsticks with fennel. A work of art more than a dish. Who serves you those creations? Chef Brunel! Smiling, enthusiast, joyful. Peter Brunel is able to pass on his satisfaction and joie de vivre in all his dishes that are, indeed, a memory of his you will remember for a long time.
He strongly aims to experiment and emphasize the raw materials of Garda Trentino and he, Peter, told about them with great passion to make us perceive them even more. These ingredients evoke Proustian memories. We too could associate "the 5 layers of onion, Vino Santo and Grana Trentino" to a memory like I did because the sweet onion reminded me of my childhood in France and Vino Santo and grana cheese Trentino represent my current life.
The desserts at the end of that gourmet experience were nothing more than perfection. A loving and accurate proposal by the Pastry Chef Loretta Fanella, a great one. Anyway, others were made by Chef Brunel, who ended my tasting menu with "Lands of olives and chocolate", a tribute to Mother Nature. A not filling and merry dessert that wants to provoke a childlike curiosity – you need to dig in the delicious land of chocolate and olives to get to the core of the dessert.
Once again, a memory, a pleasure.