News
Find out the latest news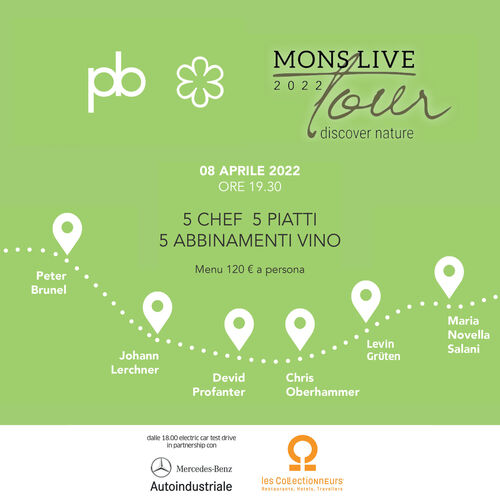 Gourmet Experience
The MonsLive Tour 2022 stops at the gourmet restaurant Peter Brunel ✨
On Friday, April 8th, the gourmet restaurant Peter Brunel represents the eighth stage of the MonsLive - Tilia Tour 2022. An exciting project involving marathon runners and star chefs, supported by important partners. The goal is to focus on physical well-being, the beauty of the territory and the pleasures of the palate.
A gourmet experience with five internationally renowned chefs who together create a special menu for the occasion, using local products and enhancing the territory.
Book directly on our website: www.peterbrunel.com
from 6 p.m.: Test drive electric models of the Mercedes series in cooperation with Autoindustriale Mercedes-Benz
from 7:30 p.m
Menu:
- Chef Peter Brunel: Rice H20
- Chef Johann Lerchner: "Pressed dumplings with steamed sauerkraut
- Chef Devid Profanter: "Tirtlan"
- Chef Chris Oberhammer: Poached egg with Swiss stone pine foam and alpine herbs
- Chef Levin Grüten: Trout, butter sauce and verjus, trout caviar, salad from our garden and herb oil
- Pastry chef Maria Novella Salani: lemon, verbena, yuzu and buttermilk
120 per person